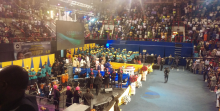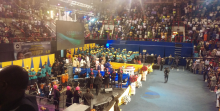 RTM Television broadcasts their 2016 South Africa Conference LIVE to their studio using ONLY LTE in HD, saving money and adding a new dimension to their channel introducing LIVE event broadcasts.
Purple Turtle were approached by the Redemption Television (RTM) channel from Johannesburg to find out how we could assist them broadcast their LIVE 2016 Conference from Johannesburg to their studio to be live on their channel. Budget was limited which prevented the use of satellite. The event was taking place over 4 days and each day was scheduled to be live on their satellite channel for around 6 hours per day. The calculations for this for satellite time was a figure that scared the client. They really wanted the event live as the GO from RCCG was going to be present for the event but the costs of a satellite uplink were preventative.
After detailed discussions with the client Purple Turtle proposed using our Global Connect broadcast solution. This would allow us to broadcast live from our IPSNG for them on site making use of ONLY LTE networks. At first the idea of using LTE was a worry for the client, as it should be as often LTE and 3G can drop you at the very time you need it in an event. But for this risk we had a solution as our Global Connect DVB over IP broadcast solutions allows us to bond as many internet connections as we can find (or as many as windows can recognise) and the DVB video is broadcast over all these links. Net result the complete failure of a network has zero impact on the transmission and the show goes on.
Reception was done at RTM's studio using their fibre internet which was tested to provide high stability.
The client was blown away after the 1st day. Not one buffer, freeze or any problem whatsoever and this using LTE as well.
The client then wanted to take their live coverage to the next level with the use of an onsite presenter. This was simply done via our IPSNG truck which has an on board vision mixer and communications matrix allowing for IFB and mixing between cameras.
The amount of money saved by the client for this 4 day event compared to using a satellite uplink was in excess of $1500 per day totalling a savings of $6000 for the event.
Should you be wanting to do a live broadcast for your channel, church or company please contact us as we will make a solution that will work for you and most importantly your budget. Purple Turtle Communications and Media builds solutions around each client's needs from our large selection of alternative broadcast solutions which are tried and tested in the African context for over 6 years now.
For more detailed info on this project and others please contact us directly