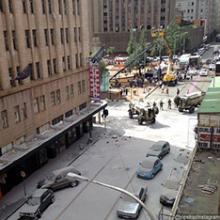 Broadcast live and in REAL time film set to the other side of the world for the director to see filming live in real time and in HD. How did Purple Turtle Solve this problem for a global leader feature film production company?
We received a call from the local production office for a large international feature film being shot in South Africa. They had a very different request for us to build a solution for in a very short period of time. They needed to send live video from the film set as its being filmed to the director who was in a different continent.
Their specific requirements:
2-way satellite link at 3 Remote African sites
 
Challenges
Short notice, under 7 days to deploy
Tanzanian Location was 300km from nearest major centre.
 
Solution
Purple Turtle deployed out SNG (Satellite News Gathering) flyaways and trucks to Zambia and South Africa using the Purple Turtle SNG Uplink in Africa solution. The Tanzanian solution was a little more complicated due to time constraints and customs challenges. We opted to use a Tanzanian Broadcaster for the solution who we talked through the whole process. The next challenge was getting them to the location in time. Distance to travel and the poor quality of roads, or the non existence of roads posed a challenge as we have had equipment destroyed by just traveling on these roads before. A quick solution was found in the form of chartering a Cessna Caravan capable to taking the crew and equipment to the remote site.
Results
Great success, the reaction of the people viewing in each venue when the world feed went live to them was amazing, seeing themselves on tv for the first time had the room erupting with excitement each time.
The interactivity made the day as they were no longer just watching TV, they were part of the TV they were watching. You can imaging the response to this for the people gathering in the Tanzania location which was very rural.
For more detailed info on this project and others please contact us directly